Application for New Campers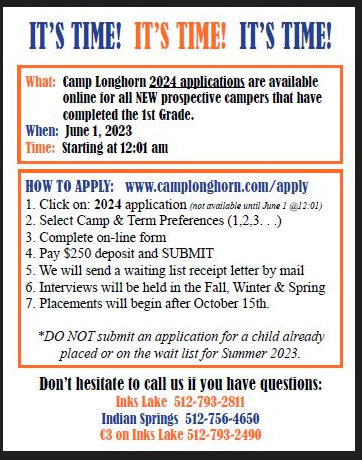 Prospective campers must have completed the second grade before attending Camp. Applications are accepted beginning June 1st after first grade. We must have their application along with a deposit in order to consider your youngster for placement.
Camp is able to place some new campers in the fall after our Early Bird campers have had an opportunity to sign up. More new applicants are offered places as cancellations occur through the winter and spring. A personal interview by one of the Longhorn Directors is required before placement. (Nothing serious, just a fun chance to meet us). The visit is always available at Camp or at one of the Longhorn Carnivals in a city near you. Campers are placed by their school grade. When a camper is placed, parents are notified in writing.
To fill out an application for a new camper, you can apply online or else request that we send you a brochure and application in the mail. All applications require a $250.00 refundable deposit. Deposits for online applications must be paid by credit card. If you would like to pay by check, please request an application by mail instead. Please see our Tuition & Fees page for dates and refund policy.
Note: If you are currently on the Wait List or have previously applied, please contact the office before applying.
To apply online you will need:
A credit card to pay the deposit.
A digital photo of your child.