What are you doing at school? Are you in sports, band, or clubs? Send Camp your news!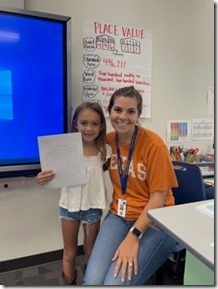 Abby Bolin, Former Camper/Counselor now 3rd grade teacher is proud of her 3rd grade student and 3rd term Wren Bessie McWilliams essay about CLH! Once a Longhorn Girl, always a Longhorn Girl!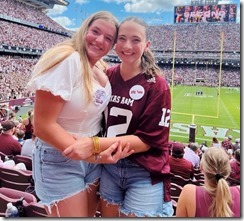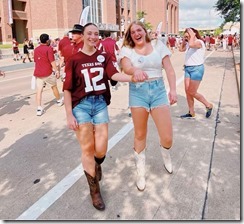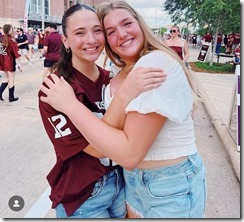 Caroline Henry (1st term Inks) flew in from Idaho to surprised her best friend and cabin mate, Bailey Griffin (1st term Inks) in College Station.
They visited A&M and went to the A&M vs Auburn game. Attaway!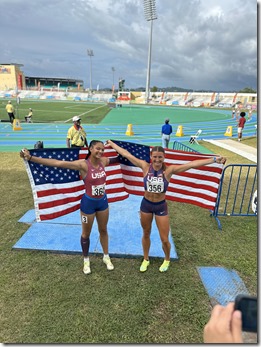 Former camper Abby Elmore just returned from the under 20 Pan American Games in Puerto Rico.
She was the Silver medalist in the Heptathlon.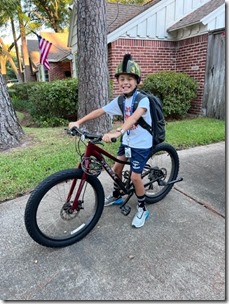 Inks Lake Camper, Colt Best, is off to his first day of school in style. Love your first day outfit! ATTAWAY!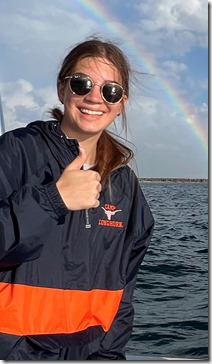 Britton Dickerson accomplished her goal of catching a tarpon in Florida, landing 2 fish including a 100- pounder in May, with assistance of her CLH raincoat.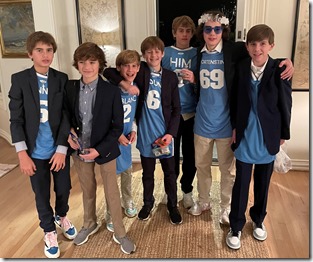 Jack Gerstenhaber enjoyed having his CLH friends at his Bar Mitzvah in November.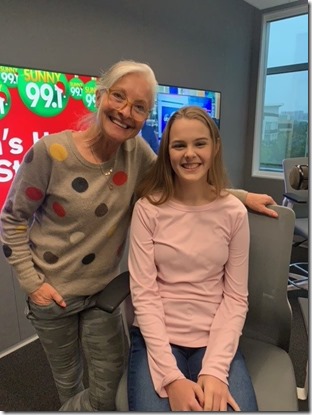 Cally Sharp (Inks 1st Term) was guest DJ on Sunny 99.1 with DJ Dana Tyson. Several years ago, Cally dressed up like Dana for Halloween and they have been friends ever since.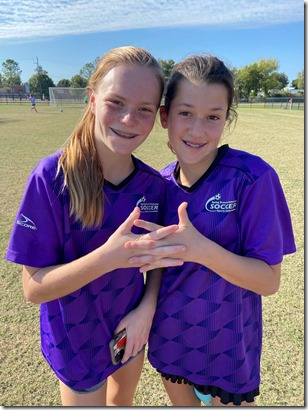 Inks 3rd Termers Maggie Hoag and Lyles Hutcheson are on the same soccer team this year. ATTAWAY!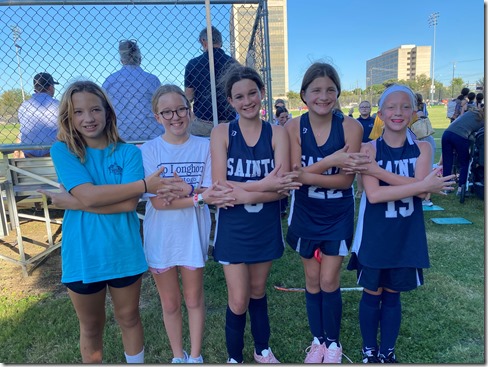 All Saints vs. Greenhill played field hockey against each other. 2nd Term camp friends forever.
L-R: Natalie Ledyard, Emily Garcia, Charlie Blue Coleman, Caroline Thomas and Megan Garcia. ATTAWAYGIRLS!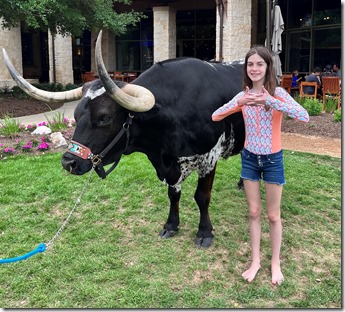 Sophia Marsh (1st term) is excited for camp….No Bull!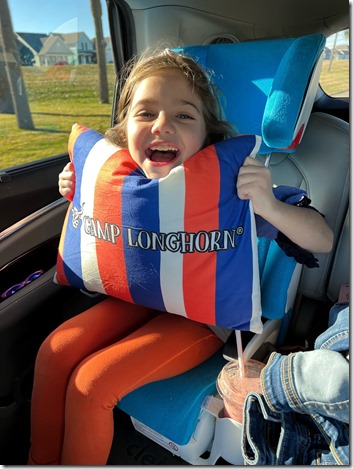 Looks like Kate loves her blob pillow that she won at the Galveston Carnival!!!!!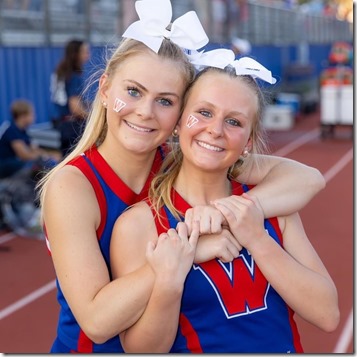 Ella and Evie Graham (Inks 3rd term) cheering for Westlake HS at DKR Memorial Stadium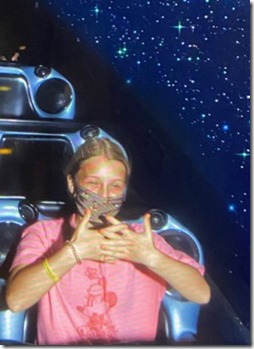 est
Izzie Seidenberg, (4th term), shows her Attaway at Disneyland!!!
!!!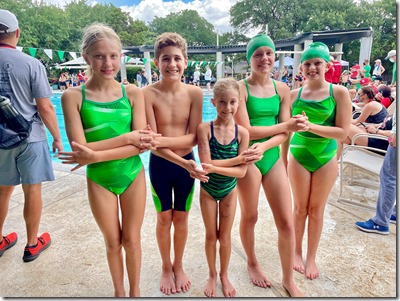 4th term campers and summer league swim team teammates can hardly wait to go to CLH at the end of the summer. In the meantime, they talk about camp at their swim meets.
Left to right: Anna Csizmadia (Indian Springs), Jett Henson (Indian Springs), Sloan Arcement (Inks Lake), Sydney Arcement (Inks Lake), Erin Wiesman (Indian Springs)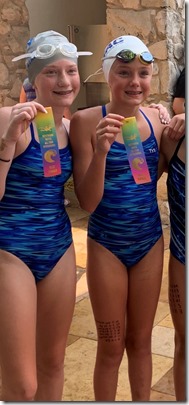 Lucy Gilbreath and Juliette Miles (4th termers) made up half of both relay teams that won both the medley and free at their summer league All Star meet tonight.
They have spent most meets this season talking about getting back to camp!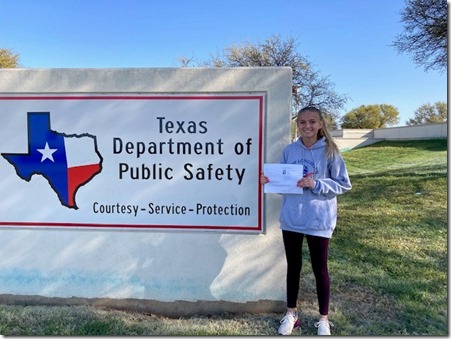 4th term Wrangler Chief Addie Eichler shows off her new drivers license and her Chief sweatshirt!!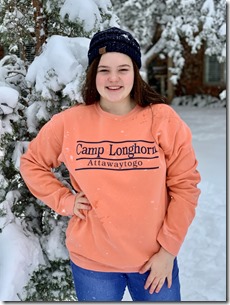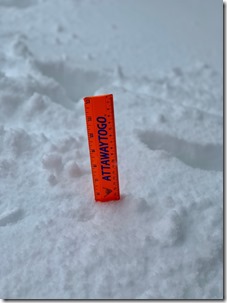 Morgan Parker (1st term Inks) enjoyed the snow in Lubbock.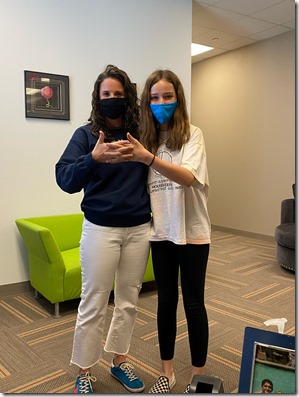 Lindsey Duncan Pike ( Indian Springs Camper/Counselor) is a middle school counselor. One of her students is Evelyn Lydick (1st term Inks). Attaway to find a Longhorn Girl!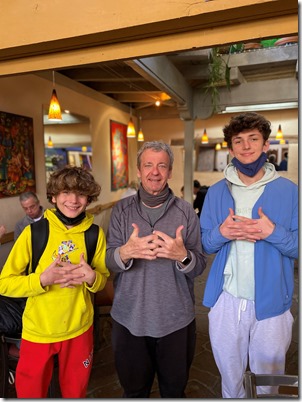 Luke and Campbell Jackson (2nd Term) and Roger ran into each other in Santa Fe on spring break. SURPRISE!!!!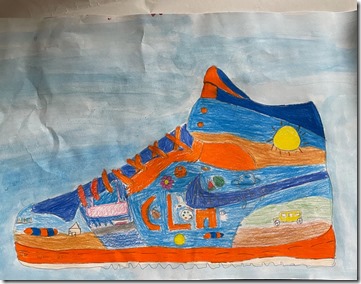 Riley Reardon (Inks 4th term) is an amazing artist. Great job creating a CLH shoe!!!!!!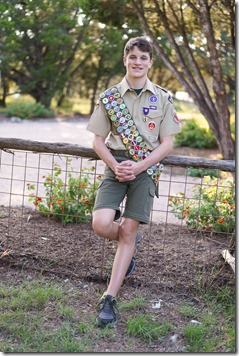 Declan Howell (4th term, Inks) earned his Eagle Scout award from Boy Scouts of America, as well as the Hornaday Conservation Badge. He installed zebra mussel detection samplers
in areas around Inks Lake (and Lake Bastrop) to try to help our local water authority and Texas Parks and Wildlife monitor for this invasive species.
He couldn't have done it without support from CLH – both Bill Robertson and Roger Moore were happy to help and Declan has three samplers installed at CLH Inks camp!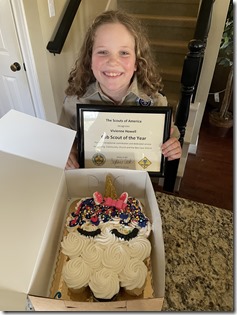 My daughter Vivienne "Vivi" (4th term,Inks) was named the 2020 Cub Scout of the Year by our Boy Scouts of America district.
Vivi is active in volunteering and especially in International Scouting programs and also earned the International Spirit Award,
one of the first female scouts in the nation to do so, and first female and youngest in our council to earn this award.
It's haunting season and Roper, one of our camp deer, wishes you a fun and spooky Halloween weekend!
Send in your kiddos pictures of their Halloween costume and win 5 merits and we will add our favorites to the Camp Chatter!!!!
This is HUDSON BENNETT. He is the son of DAVID & STACY BENNETT, grandson of
JOHN & DONNA ROBERTSON and great grandson of TEX & PAT ROBERSTON!
HUD has spent the last 8 years at Inks Lake CLH. Hudson is an accomplished cross country athlete.
He has earned many honors in cross country. His freshman year, Hud won 8
Gold Medal Finishes, District Champion, Regional Champion (Injured shortly after), Cross
Country MVP. This year, he has earned 5 gold Medal Finishes, 1 bronze medal running
against seniors in all divisions (HUD is 4A) We all know the future is bright for this young man!
Good Luck Hudson!!!!
ON TO STATE!!! ATTAWAYTOGO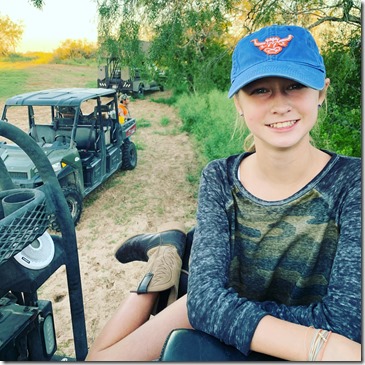 Avery Jaggers, (Inks 1st term) hunting in South Texas.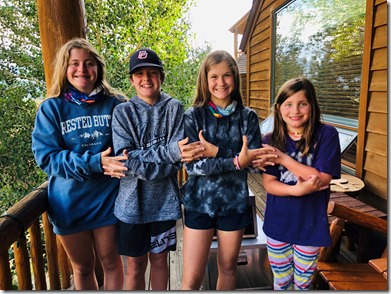 2nd Term camper cousins reunite in Crested Butte. Left-Right
Katie Beth Thomas, Thomas Smith, Margaret Smith, and Caroline Thomas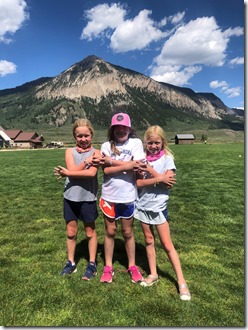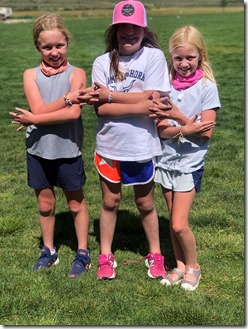 Here is a picture of 2nd term Hummers, who re-united this week in Crested Butte, Colorado!
Pictured from left to right:
Emily Garcia, Caroline Thomas, Megan Garcia
#clhfriendsarethebestfriends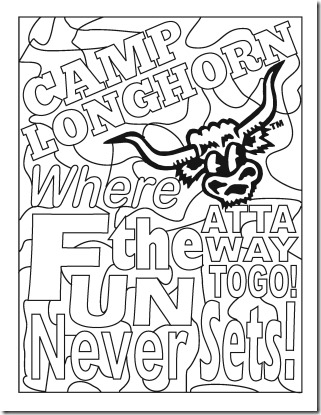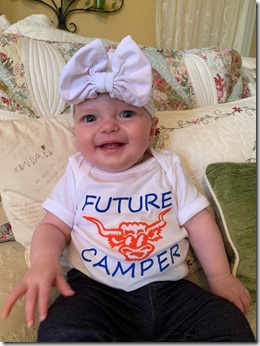 Meet this Future Camper! This is Christina "Tina" Livengood. Her siblings are Cal (Inks 4th term
Angel and Bella Livengood (C3 4th). #Attawaytobesocute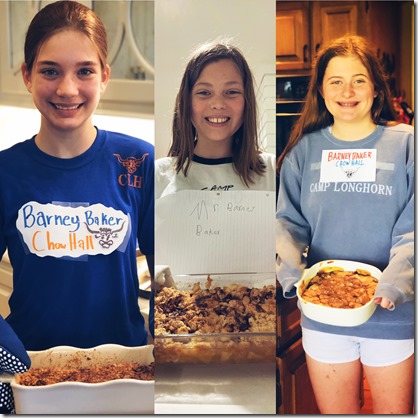 On April 21st, while sheltering in place in three different locations, Inks Lake 2nd term campers
Britton Dickerson of Madison, Mississippi; Addie Underwood of Lubbock, Texas;
and Katie Beth "KB" Thomas of Ft. Worth, Texas all made apple crisp to remind them of camp! #YUMMY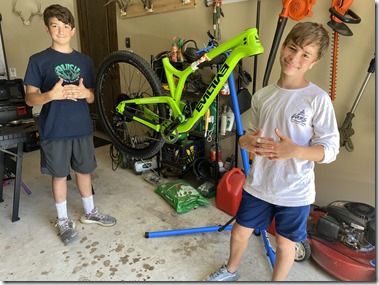 Joe Mohn (Inks 4th) and Jacob Darsey (Inks 1st) are doing a great job "Sheltering in Place".
They are building a bike. ATTAWAYTOWORKTOGETHER!! All of us at CLH want to wish
Joe a HAPPY BIRTHDAY!!!!! This is a birthday to remember! ATTAWAYTOGROW JOE!!!!!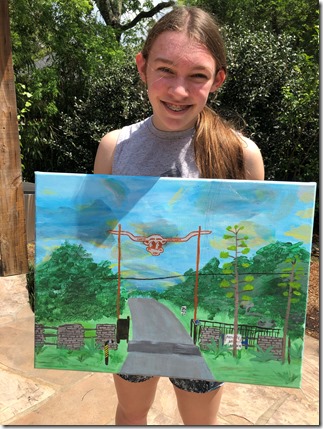 1st term Marina, Mamie Mendell makes us smile with her talent. Attawaytopaint!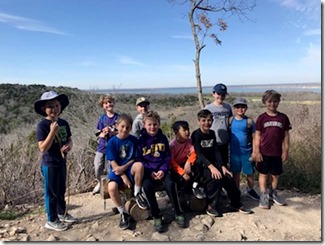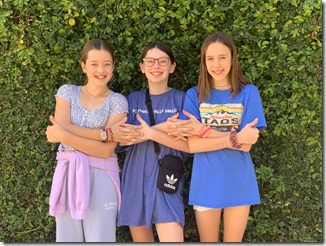 These three just saw each other last weekend. Such joy and they can't wait for camp!
(Carly Crane (Pacific Palisades, CA.), Chloe Broz(Austin), and Elizabeth Falkin(Austin)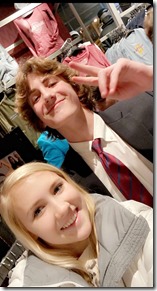 Lizzy Black (2nd term Inks) and Murphy Lee (3nd term Inks) in Washington DC.
Their schools just happened to be there at the same time and they ran into one another! Attawaytogo!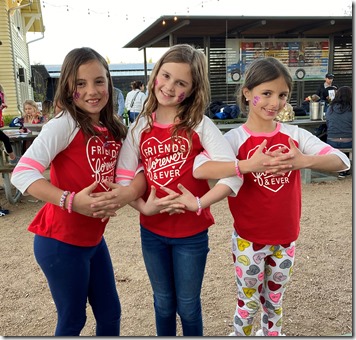 Wren Valentine Cuties!!!!! Taylor Martin & Emma Hamilton (Wren down)
Lauren Martin (incoming Wren)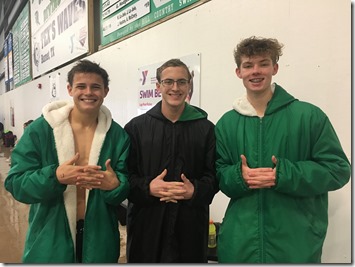 This photo was taken at the district swim meet. Three Longhorn campers from Burnet made it to the regional swim meet!!
Hudson Bennett (Inks), Ryan Behrens (C3), Hayden Brown (Inks)……Congrats!!!!!! ATTAWAYTOSWIM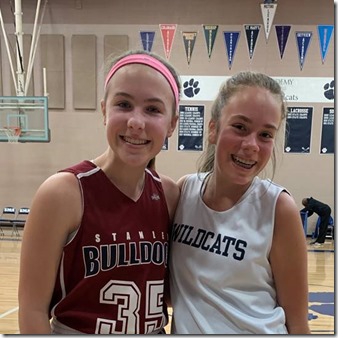 3rd generation Inks Lake campers, Hazel Harp (2nd Inks) and Isabel Shaw (3rd Inks),
played against each other in an 8th grade basketball game in Denver this January! Attawaytoplay!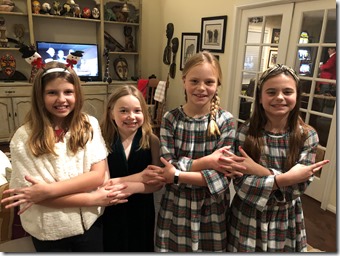 Camp reunion over the holiday!
Left to right: Eva Pertierra, Zoe Morse, Anne, Maggie Hoag, Inks Lake.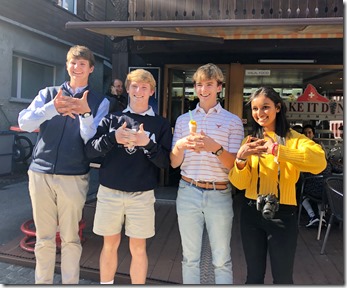 CLH Chiefs and Rangers in Zermatt Switzerland, James Click (Indian Springs), Hamp Lee (Inks Lake), Jack Gillis (Inks Lake) and Mina Raj (Indian Springs)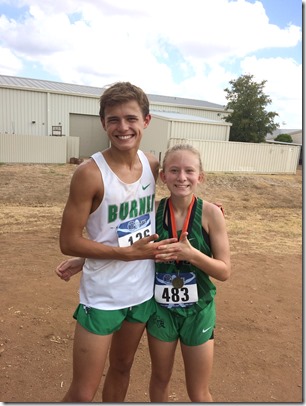 Hudson Bennett (Freshman) and Kaycee Banton (8th grade), both CLH campers, won Overall Champions at their Cross Country Meet. #attawaytobeachampion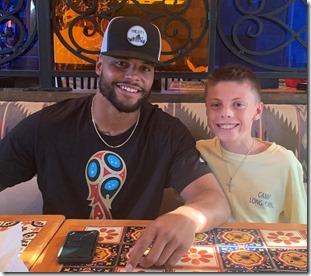 Brooks Brown (2nd Term Inks) met a new friend at dinner! He was sporting his CLH gear when he ran into Dak Prescott, QB for the Dallas Cowboys) and got to visit with him. Attawaytogo!!!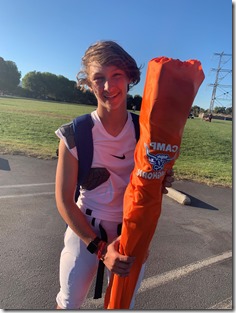 Sebastian Seidenberg (Inks 4th) and Cole Sypult (Inks 3rd) both from San Francisco, had their first high school football game.
The families enjoyed using their CLH chairs at the game. #attawaytogo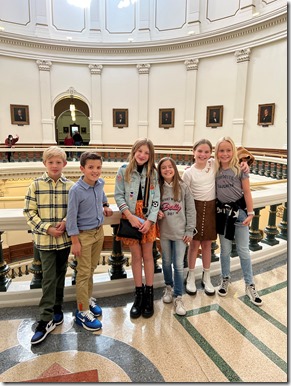 CLH campers from Arizona visited the State Capital in Austin over the Christmas break.