What are you doing at school? Are you in sports, band, or clubs? Send Camp your news!

It's haunting season and Roper, one of our camp deer, wishes you a fun and spooky Halloween weekend!
Send in your kiddos pictures of their Halloween costume and win 5 merits and we will add our favorites to the Camp Chatter!!!!
This is HUDSON BENNETT. He is the son of DAVID & STACY BENNETT, grandson of
JOHN & DONNA ROBERTSON and great grandson of TEX & PAT ROBERSTON!
HUD has spent the last 8 years at Inks Lake CLH. Hudson is an accomplished cross country athlete.
He has earned many honors in cross country. His freshman year, Hud won 8
Gold Medal Finishes, District Champion, Regional Champion (Injured shortly after), Cross
Country MVP. This year, he has earned 5 gold Medal Finishes, 1 bronze medal running
against seniors in all divisions (HUD is 4A) We all know the future is bright for this young man!
Good Luck Hudson!!!!
ON TO STATE!!! ATTAWAYTOGO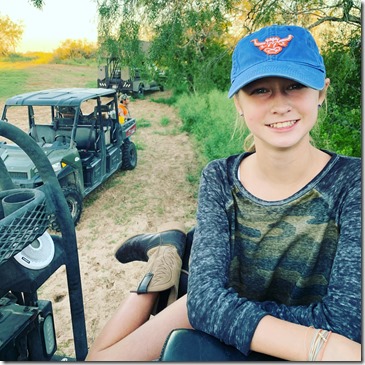 Avery Jaggers, (Inks 1st term) hunting in South Texas.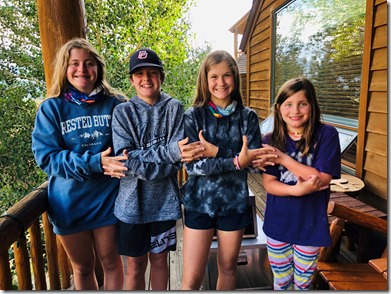 2nd Term camper cousins reunite in Crested Butte. Left-Right
Katie Beth Thomas, Thomas Smith, Margaret Smith, and Caroline Thomas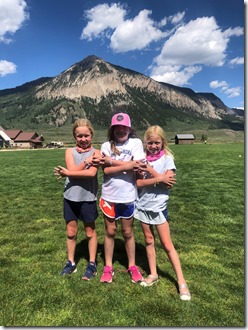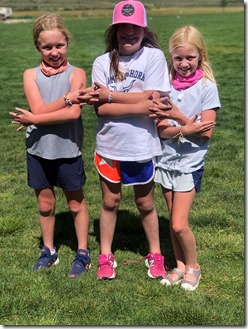 Here is a picture of 2nd term Hummers, who re-united this week in Crested Butte, Colorado!
Pictured from left to right:
Emily Garcia, Caroline Thomas, Megan Garcia
#clhfriendsarethebestfriends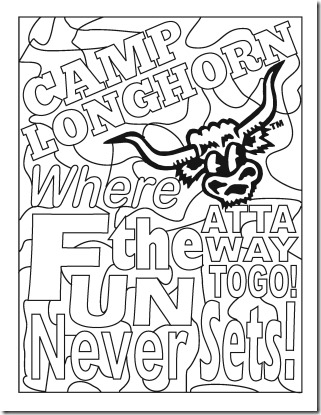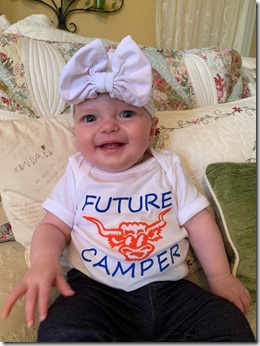 Meet this Future Camper! This is Christina "Tina" Livengood. Her siblings are Cal (Inks 4th term
Angel and Bella Livengood (C3 4th). #Attawaytobesocute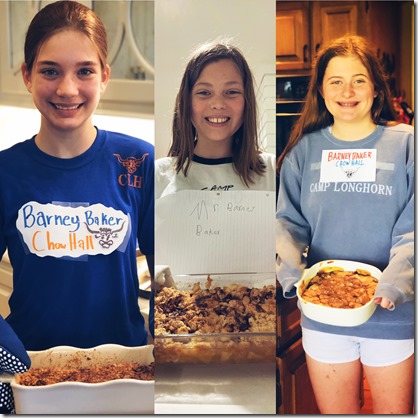 On April 21st, while sheltering in place in three different locations, Inks Lake 2nd term campers
Britton Dickerson of Madison, Mississippi; Addie Underwood of Lubbock, Texas;
and Katie Beth "KB" Thomas of Ft. Worth, Texas all made apple crisp to remind them of camp! #YUMMY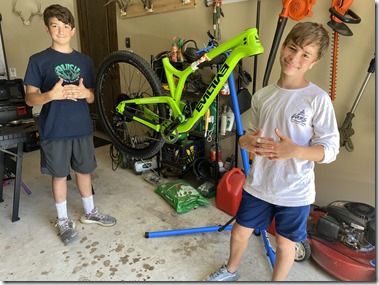 Joe Mohn (Inks 4th) and Jacob Darsey (Inks 1st) are doing a great job "Sheltering in Place".
They are building a bike. ATTAWAYTOWORKTOGETHER!! All of us at CLH want to wish
Joe a HAPPY BIRTHDAY!!!!! This is a birthday to remember! ATTAWAYTOGROW JOE!!!!!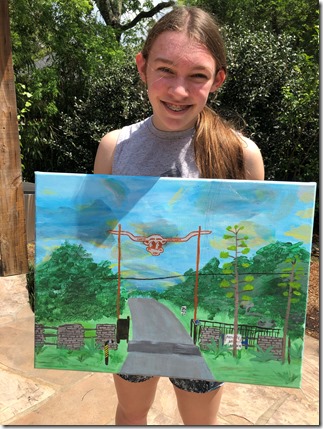 1st term Marina, Mamie Mendell makes us smile with her talent. Attawaytopaint!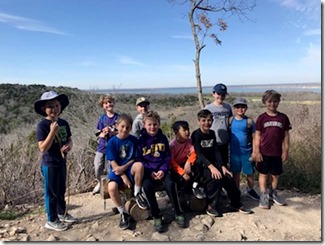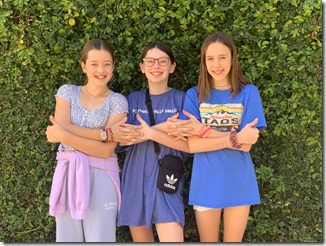 These three just saw each other last weekend. Such joy and they can't wait for camp!
(Carly Crane (Pacific Palisades, CA.), Chloe Broz(Austin), and Elizabeth Falkin(Austin)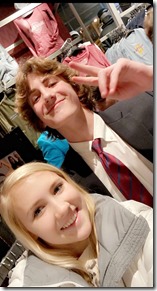 Lizzy Black (2nd term Inks) and Murphy Lee (3nd term Inks) in Washington DC.
Their schools just happened to be there at the same time and they ran into one another! Attawaytogo!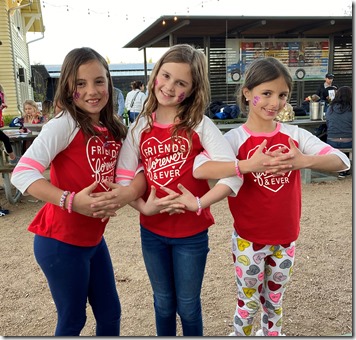 Wren Valentine Cuties!!!!! Taylor Martin & Emma Hamilton (Wren down)
Lauren Martin (incoming Wren)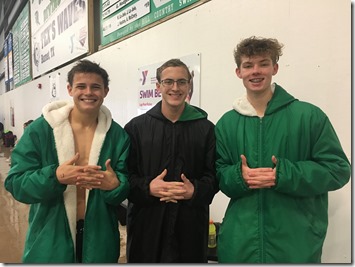 This photo was taken at the district swim meet. Three Longhorn campers from Burnet made it to the regional swim meet!!
Hudson Bennett (Inks), Ryan Behrens (C3), Hayden Brown (Inks)……Congrats!!!!!! ATTAWAYTOSWIM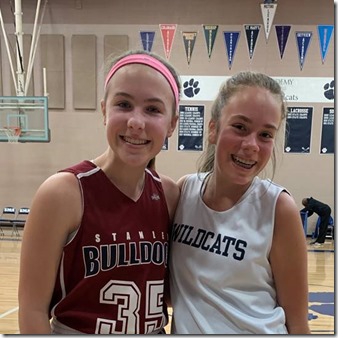 3rd generation Inks Lake campers, Hazel Harp (2nd Inks) and Isabel Shaw (3rd Inks),
played against each other in an 8th grade basketball game in Denver this January! Attawaytoplay!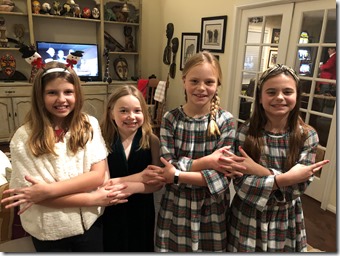 Camp reunion over the holiday!
Left to right: Eva Pertierra, Zoe Morse, Anne, Maggie Hoag, Inks Lake.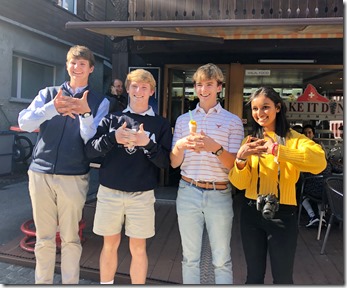 CLH Chiefs and Rangers in Zermatt Switzerland, James Click (Indian Springs), Hamp Lee (Inks Lake), Jack Gillis (Inks Lake) and Mina Raj (Indian Springs)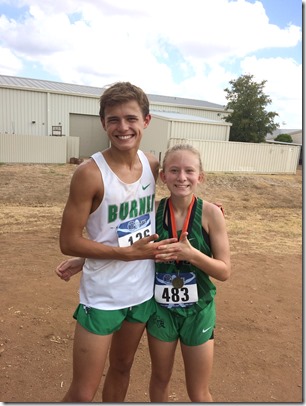 Hudson Bennett (Freshman) and Kaycee Banton (8th grade), both CLH campers, won Overall Champions at their Cross Country Meet. #attawaytobeachampion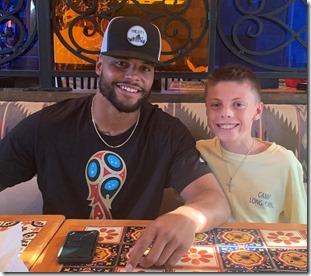 Brooks Brown (2nd Term Inks) met a new friend at dinner! He was sporting his CLH gear when he ran into Dak Prescott, QB for the Dallas Cowboys) and got to visit with him. Attawaytogo!!!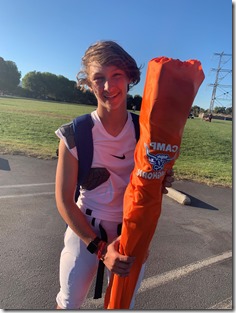 Sebastian Seidenberg (Inks 4th) and Cole Sypult (Inks 3rd) both from San Francisco, had their first high school football game.
The families enjoyed using their CLH chairs at the game. #attawaytogo